Hello to everyone, I finished reading the book, and finally I come back to write as promised this review.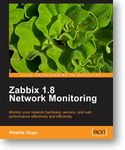 What about this book, as first thing the work of publishing, design and layout is impeccable, like any other book of Packt Publishing. They are professionist, therefore makes no sense to add words on this.
It makes no sense even describe the chapters that are inside, the added value of my reading I believe they can be rather my impressions about it.
When I was a kid I used to play with the bricks (this also means that there was no gameboy!) And this book is like a beautiful box of Lego bricks.
Reading this book every technician and every system administrator is going to have all the bricks to compose his own customized monitoring system as it sees fit.
What I really liked is the way this book is written with a technical English easy to understand, even those who are not native speakers, very smooth and pleasant to read, full of useful information and full of substance.
Often we buy a book and after reading the question arises: "Why I bought ?!?!". This book don't belong to this category.
When you look this book on the desktop seems to have ( in its 428 pages available ) the 10-plus years of experience Rihards Olups, and all in one place! without having to see overwhelmed by thousands of forums, how-to, and wikis that provide information that is often repetitive.
Too many times I found myself reading the exact same information from multiple sources, spending much time and patience.
I want to thank Sandeep because with this book he gave me a useful gift that I use actually at work.
I also found precious as gold these two gentlemen:
In the end there is the code contained on this book and downloadable from the internet! so you should not copy the shell script file which are treated in the book but just download and copy on the server.
I must say the author and packtpubl did a great job.