Readers would be pleased to know that I have teamed up with Packt Publishing to organize a Giveaway of the Mastering Zabbix
And three lucky winners stand a chance to win ecopy of their new book. Keep reading to find out how you can be one of the Lucky Winners.
Overview: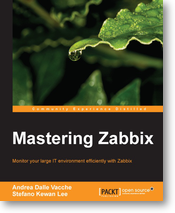 •Integrate Zabbix in your large or complex environment
• Establish a distributed monitoring solution
• Set up Zabbix and its database in a High Availability configuration
• Collect data from a variety of monitoring objects
• Organize your data into graphs, charts, and maps
• Build intelligent triggers and alarms to monitor you network
• Write scripts to create custom monitoring probes
• Understand Zabbix's database scheme and harvest data from it
• Automate procedures using Zabbix's API
How to Enter?
All you need to do is head on over to the book page (Mastering Zabbix) and look through the product description of the book and drop a line via the comments below this post to let us know what interests you the most about this book. It's that simple.
Deadline
The contest will close on Feb 15th 2014. Winners will be contacted by email, so be sure to use your real email address when you comment!